Bamboo Fishing Rods
The making of high quality bamboo fishing rods is a skilled and time consuming craft.
Bamboo Rod Making
The culms are split several times into small strips. These strips are then planed and glued back together to form what is known as a 'blank'. The guides are then wrapped, the rod is varnished for protection, and the cork grip and reel seat has to be made.
Bamboo Rods
All this taken into consideration, along with the years of experience it takes to build such craftsmanship, it is perfectly acceptable to expect to pay a lot of money for a high quality rod.
As an Amazon Associate I earn from qualifying purchases.
Bamboo Fly Rods for Sale on Amazon
Bamboo Fishing Rods for Sale on eBay
Mint condition antique bamboo rods are also known to fetch a high price to collectors.
Having said that, don't despair... there are a range of affordable rods to choose from as well... or, why not consider buying rod blanks and making your own rod!
Bamboo Cane for Rods
Out of more than a thousand bamboo plants species, Tonkin Cane (Arundinaria amabilis / Pseudosasa amabilis), is prized and most often applied to the fishing rod building craft but Calcutta Cane is also used.
Tonkin Cane has a high density of fibres making it a strong species to use for quality fishing rods.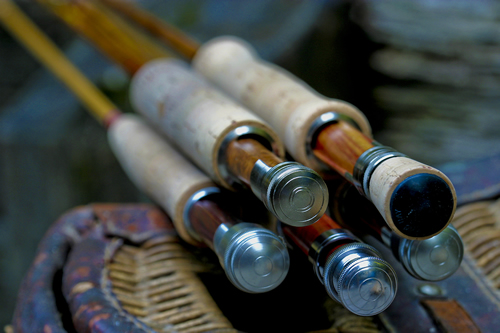 It's a species popular with bamboo rod makers because of the straightness of the culms, the agreeable spacing of nodes along the canes, and the suitable flexibility and strength of the resulting fishing rods.