Bamboo Fly Rod Building
Bamboo fly rod building, the making of good quality fishing rods from bamboo cane, is a highly skilled craft.
It involves; splitting culms into strips, planing them, gluing the strips back together to make blanks, wrapping the guides, varnishing, and making the cork grip and seat for the reel.
Making Fishing Rods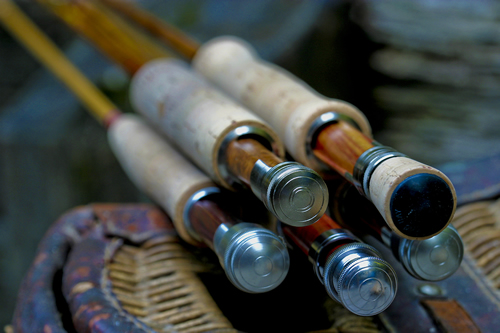 To start out on your bamboo rod building project it is a good idea to get the best advice out of the published works of masters of the craft. After all, you want to end up with well-crafted rods that are going to do an excellent job of catching fish!
As an Amazon Associate I earn from qualifying purchases
I have another page dedicated to book reviews for you to visit when you have finished here.
Bamboo Rod Building Books
Events
The International Custom Rod Building Exposition
Bamboo Fly Rod Building & Repair
A range of resources for making and repairing rods are available. I have provided the following two boxes as an example. You can click on any of the items to view the full description and browse all the other related products on offer. Or... type your specific keyword in the box to do a search.
Bamboo Species Recommendation
For building bamboo fly rods Tonkin Cane (Pseudosasa amabilis) is a species used most often out of over one thousand that are available to choose from. Another species often used for crafting bamboo rods is Calcutta Cane.
Tonkin Cane fibres have a high density and this species comes recommended due to strength, the suitable flexibility needed for fishing rods, and because the Tonkin bamboo cane nodes also have good spacing for rod building and use over alternative species.
Bamboo Fly Rod Blanks
If you are keen to make your own fishing rods but do not want to build the blank, buying a blank to start you off with crafting your own is just the thing. You can buy blanks and hardware separately and outfit the rods yourself.
See my page on bamboo fly rod blanks.
Fly Rods for Sale