Antique Bamboo Fishing Rods
Collecting Bamboo Rods
Collecting antique bamboo fishing rods has become very popular over the years and there are plenty of collectors and dealers to choose from if you are on the lookout for something to add to your collection.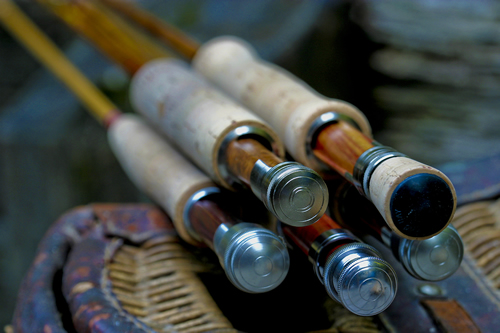 It is the fisher people's love for vintage tackle antiques that has encouraged a rise in the value of an old rod made from bamboo.
They can have such character to make them prized possessions to either; put to good use, purchase as an investment, or to display in your home.
The split bamboo fly rod has generated an interest from collectors for many years with the handmade ones showing some of the finest craft work in the history of fly rod making. The split rod has the appearance of a rich coloured hardwood and is most often six sided.
Antique Bamboo Fishing Rods for Sale
Use different search terms in search engines if you are looking for specific types of rods such as Heddon Fly Rod, Granger, or Bellinger.
Antique Fishing Tackle
Popular
There is something appealing about fly catching with older and vintage tackle that doesn't seem to be present in other types of this sport... well, not as noticeably so! Don't give me a row about that ;-)
People will buy old fly tackle to actually fish with it and not just to hang on the wall and admire from a distance... even if they do have to pay a high price for the rod!
The urge to be using equipment from a bygone era, such as a hand crafted split rod, is for some reason attractive in the contemporary sport.
Rod Value and Condition
The condition of antique bamboo fishing rods plays a big part in assessment of its value in the same way that it does for any other collectable item.
A pristine condition rod that has had no restoration work carried out on it will always be more valuable that the same rod that is in a poor condition or has been refurbished.
Rare items hold their value and will continue to do so. You may see the price of some of these rods now as being over the top but it is a good idea to give consideration to its likely value in the future and you will find that a truly rare split rod in excellent condition will be a good buy.
If you are trying to find out the value of a rod there are a couple of forums about bamboo rods and you may be able to do some research there.
Classic Fly Rod Forum and Bamboo Rod Building Forum
Another way to find potential values is look online where there are some for sale. Follow some of the auctions and see what the end selling price is. Alternatively, if you want to sell it, put it up for sale with a reserve price on eBay and see what happens.
Antique Bamboo Rods eBay affiliate
Bamboo Fishing Rods eBay
Please do not message me for a valuation. I have loads of messages like that and it is impossible to give a random value on a rod from an email.
Names of Antique Bamboo Rods

Have a look at the rod for well-known names such as; Abbey & Imbrie, Abercrombie and Fitch, Bellinger, Devine, Dickerson, Granger, Heddon, Horrocks-Ibbotson, Imbrie, L eonard and Hardy, Payne, Phillipson, South Bend, Thomas, Young. Please note that these have not been listed in any sort of preferential order.
Books
Here are some recommended books on bamboo fly rod building.
Antique & Collectible Fishing Rods: Identification & Value Guide by D. B. Homel
Classic Rods and Rod Makers by Martin J Keane
Bamboo Rod Restoration Handbook by Michael Sinclair