Feng Shui Bamboo
Feng Shui bamboo is about the representation of bamboos and related products in Chinese culture, literature, art and poetry, and the benefits when being used as a powerful antidote to bad 'Chi' that have been widely known for thousands of years in history and culture.
Believers claim that these plants possess mysterious powers and by hanging bamboos in your office and home, or planting in the garden, you can cast off malign spirits.
It can be symbolized in many forms such as wind chimes, garden water fountains, indoor water fountains, flutes, flooring, gardening, building materials, and other items made from bamboo.
Feng Shui Bamboo on Amazon As an Amazon Associate I earn from qualifying purchases
Bamboos grow in many places around the world and they symbolize longevity due to being evergreen with the ability to flourish all year round. Feng Shui bamboo is a symbol of endurance and durability that is said to bring luck and success because of its rapid growth, strength and fortitude.
The placement of plants and objects around your outdoor space, home, or office, signifies different things. For example, if the plant is on the left hand side of the room it can signify the dragon... if it is planted to the back of the room or house it signifies support, particularly lucky for businesses.
Elements
The Lucky Bamboo Plant is said to bring good fortune when combining the five elements of Feng Shui... as follows...
Wood - the plants themselves
Earth - the stones that are used for the plants to grow in
Water - water that the plants grow with
Fire - represented by the red ribbon often tied on them (although I recommend tying it to the container instead)
Metal - a glass container will belong to the Metal element. A ceramic pot should contain something metal if used, such as a coin or figurine.
Stalks
The Feng Shui bamboo cures are usually symbolized by a number of stalks.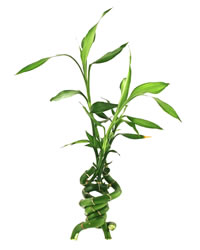 Examples are:
2 stalks - love and marriage
3 or 6 stalks - happiness
5 or 7 stalks = health
8 stalks - wealth and prosperity
9 stalks - good fortune and happiness
21 stalks - blessings
Philosophy
Hanging feng shui bamboo in your home is said to ward off malign spirits, such as wind chimes and flutes. Bamboos are believed to be a powerful antidote to bad Chi.
Bamboo Feng Shui and how water fountains are placed in the meanings behind this ancient Chinese philosophy. The following article was written by Amy who is a talented fountain artist and designer.
3 Simple Principles to Harmonize Your Life Using the Art & Science of Feng Shui
Feng Shui is an ancient art of space management, placement, and interior decoration so as to maximize the vibrancy and vitality of indoor and outdoor spaces.
Making a few simple fixes in your indoors may result in powerful long term benefits.
Here are the three quick-fixes you may implement immediately in your house or apartment to unblock the flow of "chi" in your surroundings, including a Feng Shui bamboo fountain.
Feng Shui Fix For Entrance
It is of vital importance to create relaxing and welcoming entrance, not only for feng shui applications, but also to make your guests feel comfortable.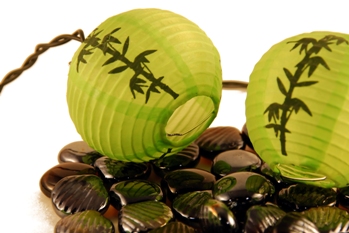 If you have a multi-story house, the stairs at the entrance would engage the attention of most of the people as soon as they enter the house. This may be solved by adding an interesting and eye-catching piece of art with bold colours along with some objects with earthy tones to your entrance.
According to traditional feng shui theory, having the right amount of "chi" in your house helps you harmonize your life with positivity and balance. Too much chi is believed to cause transgressions, whereas, too little chi is believed to result in depressions. For this very reason, it is also recommended that placing a mirror facing towards the inside of your home helps you retain the the right amount of "chi".
Feng Shui on Amazon As an Amazon Associate I earn from qualifying purchases
Feng Shui Fix For Bedroom
One of the most common mistakes people make when setting up their bedroom is the placement of their beds. In an attempt to save space, they place the bed in one of the corners of the room. This results in one-way entrance of bed. A cornered bed is big no-no when it comes to feng shui enhanced bedrooms. Placing your bed in center of the room helps you create an open-entrance to your bed.
Additionally, adding darker shades like brown, metallic, or bronze helps add tranquility to the bedroom while creating passion between the lovers.
Feng Shui Fix For Living Room
A feng shui enhanced living room has two main components: warmness and neutrality. One of the major feng shui mistakes most people make when it comes to living rooms is the leather furniture. If you already own leather furniture in your living room, one of the best ways to balance it out is to use velvet or cotton throw pillows.
Additionally, an indoor bamboo water fountain would add warm and natural aura to your indoors and help you create a refreshing and inviting living room.