Bamboo Building Products
The strength, sustainability, and beauty of bamboo building products has led to a higher level of appreciation of their versatility in the structural design of present day construction projects.
Bamboo is extremely strong. Strong enough for a structural material and so aesthetically pleasing that it can be used in interior design and furnishings.
In some countries around the world, such as in tropical type of climates where it is possible to grow forests of giant bamboo plants, there are traditions to using bamboo for buildings and structures such as bridges.
Environmentally Friendly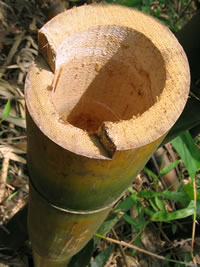 If bamboo is grown in the country it will be used, the environmentally friendly category will apply even more because of the reduction in travel to destination of use.
It's no good classifying a material as being environmentally friendly if it has to travel to far reaching corners of the globe to reach the end user.
This category should also take account of manufacturing and processes with consideration as to their effect on the environment.
The objectives of not consuming fossil fuels, extracting resources from the earth, and polluting the atmosphere, need to be met in the process of construction with the use of simple techniques in production.
The creation of natural buildings that have an aesthetic appeal and blend into the natural environment are becoming more popular as concerns over the future of our environment grow.
Images of a gateway and roof to show examples of building using bamboo.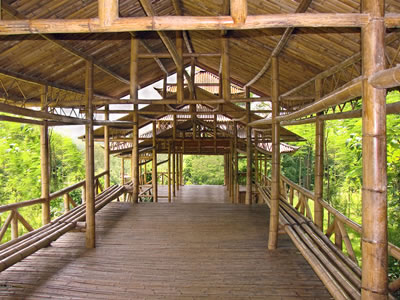 Bamboo Gateway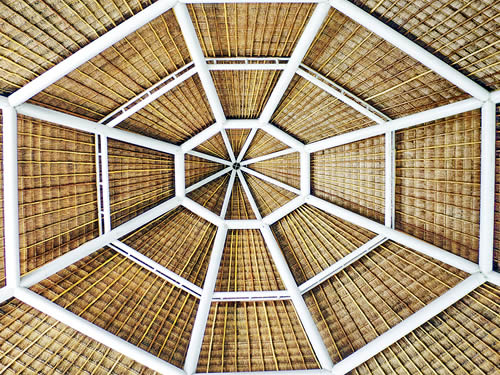 Bamboo Roof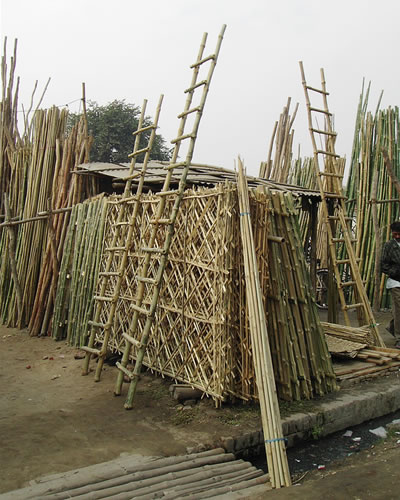 Bamboo Supplies
Design and Construction