Bamboo Lumber
Bamboo lumber is used across the world in construction and building due to it's versatility, beauty, sustainaility, flexibility, and its incredible strength.
It's these very characteristics of bamboo that has led to such a high level of appreciation of its versatility in structural and architectural design of contemporary building and a wider variety of construction projects.
As a versatile building material it is so strong that it can be used as the main structural material for some types of buildings, and it is so aesthetically pleasing that it lends itself to being used in interior design and home furnishings. In many countries across the world, buildings and houses constructed from bamboos are common, particularly in tropical climates where there are giant bamboos growing as forests.
If you are considering buying bamboos for the purpose of using as a timber you need to first look at which species will most suit your requirements. If you are considering growing bamboo lumber yourself, you should also make sure you consider which species will most suit your climate and the environment to ensure that the plants survive, maintain health, and grow to their full potential reading for harvesting.
Species
Some species are more suitable for bamboo lumber than others. The following is a list of some recommended species specifically suited for building and contruction industry materials and products.
Bambusa oldhamii or more commonly known as Giant Timber Bamboo - Can grow to approximately 65ft with a maximum diameter of 4 inches. This is a tall and very erect species that comes from China
Bambusa Lako - This is a great species for making furniture and will hold it's black colouring even after it has been harvested. The canes are a useful diameter of 4 inches and can grow to a height of 50ft
Dendrocalamus Asper - A very strong species sourced from Indonesia and known to grow as tall canes that have long straight sections up to approximately 80ft in height and at around an 8 inch diameter.
Dendrocalamus Brandesii - This species is an excellent building material. It is one of the species that is found throughout regions of South-east Asia. Boasting canes that will grow tall and straight and reach approximately 60ft high and 6-8 inch in width.
Dendrocalamus Yunnanicus - Really good for bamboo lumber having strong and straight canes that grow to aproximately 70ft high and is a great species for resourcing construction industry materials.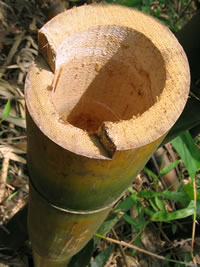 Bamboo Pole
Gigantochloa Apus - This is a species traditionally an Indonesian building material growing to around 60ft high and a 4 inch diameter.
Gigantochloa atroviolacea - A species that is also good for furniture making, and a very straight growing plant, with strong black canes that will grow to approximately 50ft and include a good 4 inch diameter.
Gigantochloa Atter - A species that has straight and strong canes that reach an approximate height around 60ft with a good 4 inch diameter
Gigantochloa Pseudoarundinacea - An excellent bamboo plant originating from Indonesia and boasting canes with straight growth to 40ft and 4 inch diameter canes.
Phyllostachys bambusoides - This is also a giant timber bamboo sourced from China with growth to approximately 70ft tall and around 5 inches in diameter
Harvesting
Information about harvesting for bamboo lumber is provided on my page at;
Books