Borinda Lushuiensis No 4 Yunnan Bamboo
Borinda Lushuiensis No 4 Yunnan is a beautiful ornamental bamboo with bluish new culms, an open clumping growth, and slender long green leaves. It's a fast growing bamboo, ideal for landscaping, hedging screen, or a specimen plant, and certainly won't disappoint.
Waxy Blue Culms of B. Lushuiensis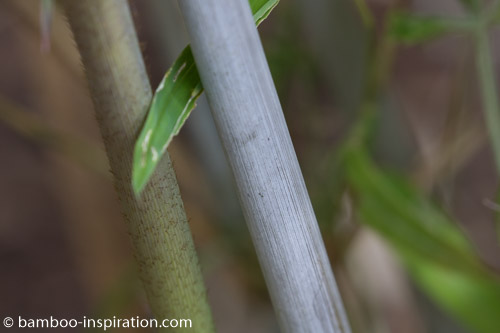 Spread and Growing Habit
Open growth clumping non-invasive bamboo. Non running.
Over 10 years a clump of 2.5 m (7 ft.) is possible.
Height
Maximum height: 8 m (25ft) over ten years. Can reach 12m in ideal conditions.
One of the taller Borinda species.
Borinda Lushuiensis No 4 Yunnan Hardiness
Hardy to temperature of -8 ° C. The species was originally collected at 1780m.
Needs a sheltered position in light shade and best in a climate with no frost.
Culm Width
Maximum diameter: 4 cm (1.5 inches).
Ornamental Culm and Node of Borinda Lushuiensis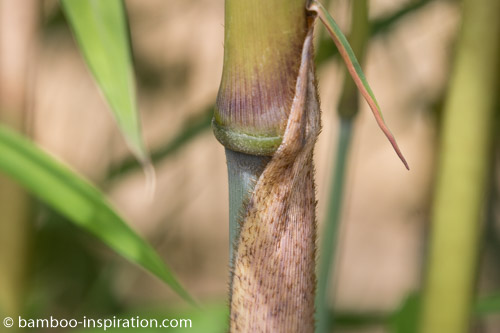 Culms
All new Borinda Lushuiensis No 4 Yunnan culms display  a blue powdery bloom. This blue colour eventually disappears resulting in a green culm but all new culms will be a bluish color.
Sheaths
Pale red brown sheath with hairs. Sheaths open on hot days and close up in wetter weather. Eventually the sheaths drop from the plant creating a mulch of leaves around the base that prevents weed growth and helps retain moisture in the ground.
Attractive Blue Culm and Sheath of Borinda Lushuiensis No 4 Yunnan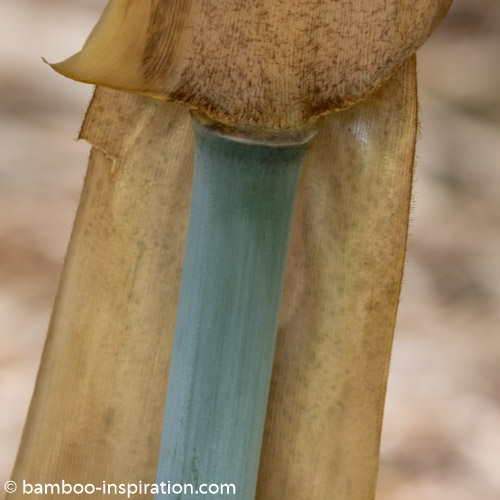 Shoots
Shoots in early summer resulting in fresh culms with a blue tinge and attractive colourful nodes.
Leaves
Long slender drooping green leaves.
Branches
Blue cane, branches and leaves of Borinda Lushuiensis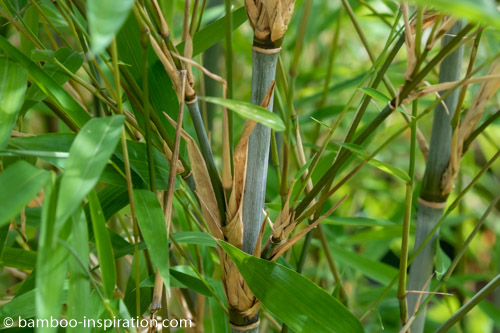 Uses of B. Lushuiensis No 4 Yunnan Bamboo
Stunning plant with an upright but open growing habit. Use for ornamental specimen bamboo in landscaping, or for privacy such as in hedging and screening around the garden. Can also be planted in large containers.
Origin
Near Lushui Xian, China

Borinda Variations
List of other bamboo in the Borinda genus.