Bamboo Pots
Bamboo pots and containers are suitable for a variety of uses in the home or garden.
Some of these products are every day items made for specific uses such as plant containers. Others are classified as rare or antique, in a variety of natural shapes, artistically designed with carvings, and can be an investment as well as pleasing to look at and use.
Bamboo Brush Pots - eBay affiliate
Examples of different uses; steamers for cooking, tea pot, flower pot, orchid pot, pen or brush pot, floor vases, hanging plants pot, dried flowers pot, etc.
Some pots and containers will be made from bamboo plants materials and others will be ceramic type pots. The ceramic types will often either have a lid and/or handle made from bamboos, or will have bamboo shaped handles or designs on the pot.
Carved Bamboo Pots
Carved bamboo pots for keeping brushes in, some with calligraphy carved into the bamboo can be a stunning addition to your home.
Not only do they provide a useful utensil but often have unique and detailed carvings that make them stand out in quality and aesthetic beauty.
Bamboo Pot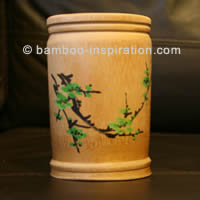 Carved Pots Made from Bamboo - eBay affiliate
There are some really beautiful antique pots you can buy that have deeply embedded hand carvings to the highest top quality craftsmanship from Chinese and other cultures. The ones I really like the best have carved landscapes, people, forests and rivers.
I am always amazed at the detail that can be carved in this way and it must take a long time for these highly skilled crafts people to turn these natural materials into such objects of amazing beauty and durability. After all, they are all originally designed to be used and not to just sit on the shelf!
Ceramic Bamboo Pots
If you are looking for a pot in which to keep house plants, garden plants, or Lucky Bamboos, you will more likely choose a ceramic type pot.
A ceramic pot titled as being related to bamboos will generally have a shape, painting, handle, lid, or raised design in some way related to the plant.
Bamboo Plant Pots
Some of species of bamboos are suitable to grow in a pot or container. I have several other sections of this site that are dedicated to the plants species that you can grow in containers, either inside the home or in your garden.
Pot
If you want to grow you plant in a pot, ensure your pot is a large enough size to leave a space of a minimum of two inches between the ball of the root and the pot. Choose a pot that is wider in preference to a deep one. Root growth is relatively shallow so to plant in a deep pot is not as efficient as in a wide container.
Care
Growing a plant in a pot takes a bit more care and effort. Please be sure to visit my container plants page for a guide to watering, position and sunlight, temperature, and feeding.
The following links will take you to related information.