Artificial Bamboo Plant
An artificial bamboo plant is a great way to create an oriental and elegant theme to any room, whether it be your home, business, office, reception, or hotel foyer.
More than one of these plants, placed in a row, can be used as a screen or divider and when used with lighting will also create curved shapes and shadows on the walls to further enhance the atmosphere.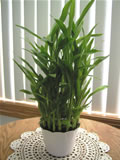 The silk versions of these plants are excellent.
The good quality ones are so well made now that you have to study them really closely to find out that they are not real plants.
You can buy them in all different sizes according to your requirements.
Artificial Plants for Sale
Artificial Bamboo Trees and Plants - all sizes for sale on eBay
As an Amazon Associate I earn from qualifying purchases
Artificial bamboo for sale on Amazon
A 'living' alternative for you to consider! Lucky Bamboo