Phyllostachys vivax huanvenzhu
Phyllostachys vivax huanvenzhu Yellow Groove Vivax Bamboo
Phyllostachys vivax Huanvenzhu, or Yellow Groove Vivax, has beautiful big green straight canes with random yellow stripes that usually occur on the sulcus of culms.
The yellow stripes can be single wide stripes or several narrow stripes similar to a barcode pattern, randomly occurring to make each culm different.
Phyllostachys vivax huanvenzhu timber bamboo, green culms with yellow stripes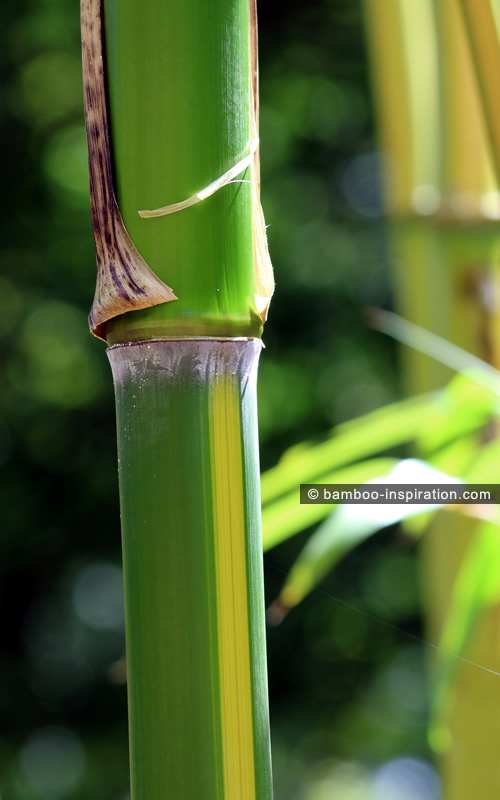 Along with the stunning green colour of the culms, and the yellow striping, the speckled spotted culm sheaths have additional appeal to the look of the bamboo.
Phyllostachys vivax huanvenzhu green culm node with speckled sheath
Yellow Groove Vivax is a large architectural bamboo species that displays a big visual impact in a garden landscaping design. Growing this vivax bamboo plant to maturity will need some space. However, if you have an area to let it grow to it's full height and spread you won't be disappointed with the impact it makes.
Planting large bamboos such as P. vivax huanvenzhu near to water so as to also take advantage of the reflection will make it look even more stunning.
Yellow Groove Vivax culm node with new branch growth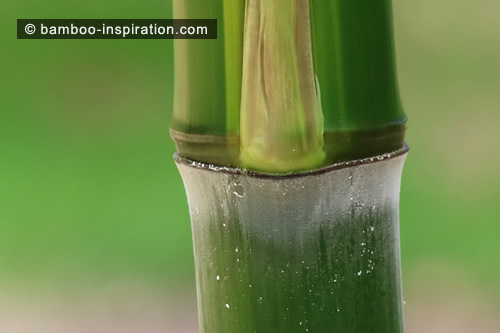 Yellow Groove Vivax Growth
Phyllostachys vivax huanvenzhu bamboo is vigorous in the growing season and produces numerous shoots followed by the rapid growth of upright culms all through summer.
In the first years the plant will maintain a clump form but as the years go on it may spread out more. If spreading is not required snap of new shoots when small or use a rhizome barrier as an insurance against unwanted potential spread.
Yellow Groove Vivax bamboo node, green culm with yellow barcode stripes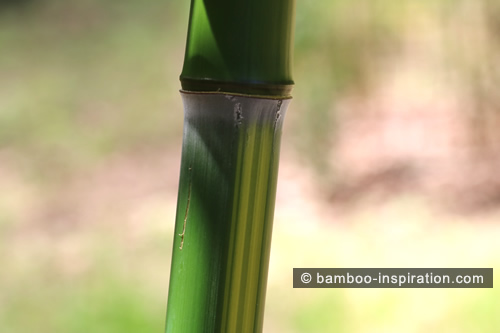 Height
10-14 metres (35 to 45ft) depending on conditions. For example, in a colder climate the height may be more like 6m.
Phyllostachys vivax huanvenzhu Culms
Big cane diameter up to 13cm (5"), also dependent on conditions a climate. From 3" to 5" is normal for this species. Green with random yellow stripes on the sulcus. In the right growing conditions P. vivax species can be harvested as a timber bamboo.
P. vivax huanvenzhu bamboo, green culm with random yellow stripes
Leaves
Leaves are generally approximately 13cm length by 2.5cm width (5 by 1 inches).
Spread
Over the course of ten years, you can expect Phyllostachys vivax huanvenzhu bamboo to spread from 1m-3m (3.3ft - 10ft) in an open clump. However, this is not always predictable and although it's not usually an invasive species you should be aware it is a big bamboo so in your initial planting ensure you leave up to 3 metres around the plant to allow for spread. This advice is dependent on climate with a colder climate resulting in a smaller spread and retention of the clump.
Hardiness
P. vivax huanvenzhu should be hardy down to -20C (-4F), USDA Zone: 6 through 10. Protect new shoots from any intial hard frosts if you see them appering early in the season. If in a container put the plant in a sheltered area through extremely cold winters. Ground planting provides improved protection for roots in cold climates.
Straight green bamboo cane with yellow groove vivax stripes
Variations
Phyllostachys vivax including yellow with green stripes.
Phyllostachys vivax f. Aureocaulis
Phyllostachys vivax f. huanvenzhu
Phyllostachys vivax f. huanvenzhu inversa
Alternative Bamboos
Phyllostachys - List