Fargesia scabrida Asian Wonder
Fargesia scabrida Asian Wonder
Fargesia Scabrida "Asian Wonder" bamboo is an attractive plant with leaves that are narrow and an open branch growth. It has colourful culms that are a purple blue when juvenile with orange tinged sheaths. On maturity the culms change to an olive shade of green.
Uses of Fargesia Scabrida
This is not a massive bamboo. Fargesia Scabrida is suitable for planting in pots, can be used as a single specimen or is equally good as hedging and screening.
Height and Spread
A dense upright and clumping habit reaching heights between 2 and 3 metres container grown, and let loose in the ground it could reach 4 metres.
Not invasive clump growth to around 1 metre.
Hardiness and Climate
Fargesia Asian Wonder is a hardy bamboo that prefers semi shade and is also tolerant of being in deeper shade. Native to higher cooler climates in China it's not likely to be tolerant of full and hot sun all day but through early or later parts of the day will be fine.
Said to be able to tolerate temperatures down to -20C. However, if grown in a pot I would move it to a sheltered position in very harsh winter weather to keep it out of freezing winds.
Fargesia Scabrida Asian Wonder Canes, Branches, and Clump Shape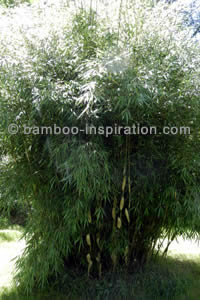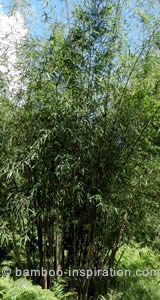 Fargesia Species