Fargesia murielae Simba Umbrella Bamboo
Fargesia murielae Simba is an evergreen hardy clumping bamboo that will only grow to around 2 metres high and around 4 metres wide at maturity. It is therefore ideal for a feature in smaller gardens with its attractive umbrella arching shape.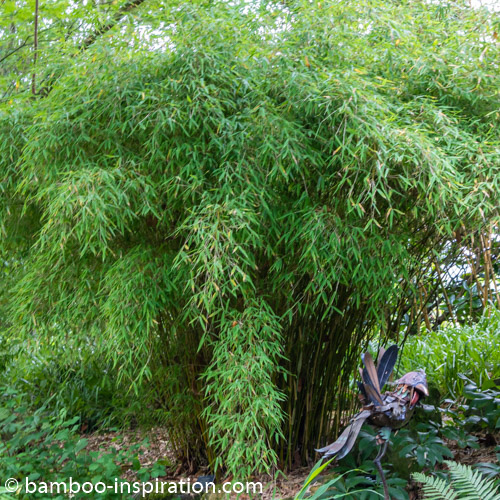 F. murielae 'Simba'
- Umbrella Bamboo
The plant can be pruned if required.
This bamboo is reliable with clump formed growth, is not invasive and won't spread. It will tolerate most soil conditions except perhaps; extreme drought in arid climates where it will need some watering, or waterlogged soil. It is easy to grow and tolerant of sun and of light shade, but perhaps not so tolerant of exposed cold coastal winds.
Fargesia murielae Simba received the RHS Award of Garden Merit (AGM).
Other names: Umbrella Bamboo, Muriel's bamboo
Uses of Fargesia murielae Simba
Simba is suitable for growing as a smaller bamboo specimen plant, a lower screen in a row, or as a container bamboo.
Maturing over 5 to 10 years to form into an attractively shaped evergreen specimen plant or screen.
Its dense growth has benefits that include wind protection and reduction of unwanted noise.
Hardiness
Cold hardy plant that originated in China at 3,000m and survives climates such as northern US, Europe, and Scandinavia.
-29 degrees celcius; Zone 4b
Tolerant of colder climates and exposed positions but not suitable for full hot sun all day, semi shade or shade at each end of the day is preferable.
Growth Rate
Height and Spread
Height and Spread
Mature height of 1.5 to 2m metres and average of 4 metres.
Fargesia murielae Simba has a slow rate of growth and spread, resulting in a dense clump of culms in the shape of an umbrella.
Culms and Leaves
Bright green canes that may fade into more of a yellowy-green with maturity.
Culm width a maximum of 1.5cm (0.6 in.).
The narrow green leaves are approximately 8cm in length by 1cm in width (3 by 0.4 in.)
Planting and Fargesia murielae Care
Fargesia Umbrella Bamboo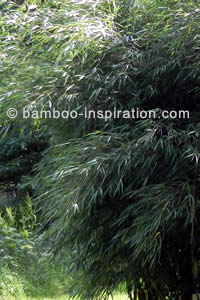 Although an evergreen bamboo when planted in the ground, when grown in containers and pots F. murielae 'Simba' can lose leaves during winter. It's not a problem as they will grow fresh new leaves in the growing season through spring and early summer months.
Check on container grown bamboo every year to ensure they are not outgrowing the pot. If they get to big for the pot they can be transferred to a larger pot, divided into 2 plants through division, or just planted in the ground.
Bamboo plants benefit from a fertilizer in spring/summer growing season, and from a mulch during the winter to maintain the root system temperature.
Do not let F. murielae Simba dry out. This is particularly important for container plants but equally for ground planted bamboos during long dry spells.
When caring for bamboo plants, in the ground or pots, removal of old dead culms during winter when the plant is dormant. This should be done well before any new shoots are likely to appear because new shoots sometimes depend on the old culms. So… an end of summer maintenance task, once any new culms are fully grown, would be to snip old culms off at soil level.
Variations
Fargesia murielae - List
Fargesia murielae Bimbo - thin arching culms, lots of foliage, great for containers
Fargesia murielae Harewood
Fargesia murielae Jumbo - fast maturing, taller, upright open clump, bushy arching branches, wider leaves.
Fargesia murielae Leda - May not be available.
Fargesia murielae Simba - dense, clumping, upright growth, light green leaves.
Fargesia murielae Superjumbo
Fargesia murielae Thyme
Fargesia Genus and list