Bamboo Japanese Landscape Design
Japanese have had a keen interest in landscape design and the Buddhist practice of Zen as long as over five hundred years ago.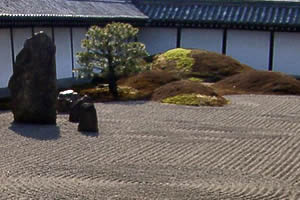 Examples of Japanese Garden Elements
Some say they have been refining different varieties of Japanese landscape design for more than one thousand years.
The creation of a landscape as an art is an intriguing part of Japanese landscaping, an aspect of Zen, and one part of the history of what are now recognised as Japanese gardens.
It was the influence of the Buddhism part of Chinese culture from the sixth century, with streams and ponds as points of focus that initially had an impact on Japanese landscapes and gardens designed in the grounds of palaces.
Japanese Garden Features for sale - eBay affiliate
There are some famous Japanese gardens around the world, not all of which are actually in Japan, but most of the original and historic gardens no longer exist. In some countries outside of Japan, creating a Japanese garden landscape is mostly thought of as bamboo and/or bonsai trees along with gravel and rocks. But this type of garden creation is much more to the Japanese people who create their own gardens, which can be large or small, created and looked after with devotion as an art form and as their own private retreat from the world.
The feel of a Japanese landscaped garden should therefore be one of tranquillity, a place of escape from the hustle and bustle of life.
Japanese Landscape Types
The evolutionary aspect of Japanese garden and landscape design can practically be traced through culture, religion, and periods of Japans history.
Japanese landscape designers often specialise in different varieties of design and the materials they apply to it.
For Sale Zen Garden Water Features - Bamboo Fountains - eBay affiliate
There are designs that use pebbles, rocks or stones that are named dry gardens, or rock gardens. These generally incorporate large rocks with either a real waterfall or a representation of a waterfall by using gravel or sand to represent water. In the latter case, the rocks represent countries and the sand or gravel represents water flowing around it. Moss can also play a big part in the design of these gardens.
Although this has never really worked for me because I always end up filling the space with plants, I like these types of gardens in their simplicity, peacefulness, environments for relaxation, and the fact that owners of such gardens will meticulously rake the gravel to best effect for the landscape design.
Other aspects of Japanese landscape design incorporate plants such as; bamboo, cherry blossom trees Sakura, bonsai trees and pines.
Walls, fencing, and gates are also applied to the designs along with using bridges, streams and ponds (often containing Koi Carp fish), steps, paths, fountains, lanterns, streams, and even lakes.
Size
You may think that to create a Japanese landscape you need to have a large garden. This is not necessarily the case as you can achieve a similar atmosphere in a small garden or yard. Not everyone has masses of land and many do manage to create a design in a small space that may not be absolutely perfect as a Japanese landscape is imagined, but perfectly creates a relaxing space that utilises the ideas provided by Japanese landscape design throughout history.
I can only recommend a visit to the Japan Guide for a comprehensive list of gardens you can visit and to show you the wide range of designs from which you can take elements to incorporate into your own garden ideas.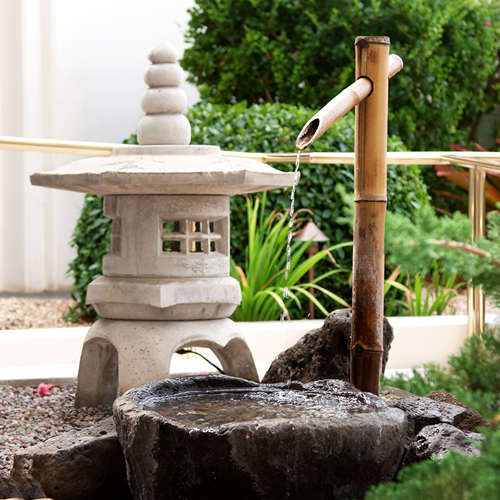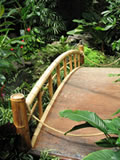 Cost
Japanese Garden Ideas - eBay affiliate
Zen Garden Water Features - eBay affiliate
Bamboo Fountains - eBay affiliate
Using Japanese landscape design can turn out to be quite expensive when you include the cost of any of the following you may apply to the design such as; gravel, rocks, sand, bridges, plants, bamboo and trees, ponds, streams, lakes, and fountains. But I have to say that if this type of garden appeals to you, particularly if you lead a busy life and don't have time to maintain lots of plants and weeds, go for it. It will be worth the investment in time and money, although you don't have to spend a lot if you shop around for a good deal on gravel and rocks!